Description
Questions about the reliability of the New Testament are commonly raised today both by biblical scholars and popular media. Drawing on decades of research, Craig Blomberg addresses all of the major objections to the historicity of the New Testament in one comprehensive volume. Topics addressed include the formation of the Gospels, the transmission of the text, the formation of the canon, alleged contradictions, the relationship between Jesus and Paul, supposed Pauline forgeries, other gospels, miracles, and many more. Historical corroborations of details from all parts of the New Testament are also presented throughout. The Historical Reliability of the New Testament marshals the latest scholarship in responding to New Testament objections, while remaining accessible to non-specialists.
Contents
Foreword
Introduction
PART ONE: The Synoptic Gospels
Chapter One: The Formation of the Synoptic Gospels
Chapter Two: Contradictions Among the Synoptics?
Chapter Three: Corroboration of the Synoptics
PART TWO: The Gospel of John
Chapter Four: The Formation of the Gospel of John
Chapter Five: Evidence for the Accuracy of John
PART THREE: Acts and Paul
Chapter Six: The Credibility of Acts
Chapter Seven: Paul in Acts and in the Epistles
Chapter Eight: Forgeries Among the Epistles of Paul?
Chapter Nine: Is Paul the True Founder of Christianity?
PART FOUR: The Rest of The New Testament
Chapter Ten: The Non-Pauline Epistles—New Testament
Chapter Eleven: The Book of Revelation
PART FIVE: Canonicity and Transmission
Chapter Twelve: The Nag Hammadi Literature and
Chapter Thirteen: Textual Transmission and the Formation of the Canon
PART SIX: The Problem of Miracles
Chapter Fourteen: Miracles in the New Testament World and Today
Endorsements
"When it comes to a fair, accurate, and balanced defense of the historical reliability of the New Testament, no one does it better today than Craig Blomberg. This far-ranging volume summarizes much of Blomberg's previous work and brings together a wealth of evangelical scholarship in a clear and accessible format. It is another masterpiece from one of the leading voices in New Testament studies."
—Mark L. Strauss, University Professor of New Testament, Bethel Seminary
"I cannot think of a better person to write a book on the reliability of the New Testament than Craig Blomberg. We do not have the reflections of a novice here but of a seasoned and veteran scholar, one whose work has stood the test of time. All the virtues of Blomberg's scholarship are on display here: he is well versed in secondary sources, he is unfailingly fair to those who hold different views, and his own judgments reflect careful assessment of the evidence. Blomberg demonstrates that trust in the reliability of the New Testament is reasonable; one doesn't have to put one's head in the sand to find in the New Testament writings words that are true and accurate."
—Thomas R. Schreiner, associate dean of the School of Theology and James Buchanan Harrison Professor of New Testament Interpretation, The Southern Baptist Theological Seminary
"In this helpful volume, Blomberg shows the compelling evidence that supports the historical reliability of the New Testament as a whole. Exemplary scholarship, cogent argumentation, clear and interesting prose, and constant demonstration of the relevance of the topic all combine to make this an outstanding tool for Christians seeking to answer contemporary arguments against the reliability of the New Testament. Highly recommended!"
—Charles L. Quarles, director of PhD studies and professor of New Testament and biblical theology, Southeastern Baptist Theological Seminary
"At the core of the Christian gospel are the historical figure of Jesus of Nazareth and the historical events of his death and resurrection. The question of whether the Bible bears accurate testimony to the Messiah and his saving cross-work is therefore literally a matter of life and death. In this far-ranging compendium, Craig Blomberg painstakingly defends the historical reliability of Scripture and helpfully equips those who want to do the same. Highly recommended!"
—Andreas J. Köstenberger, senior research professor of New Testament and biblical theology, Southeastern Baptist Theological Seminary, and founder of Biblical Foundations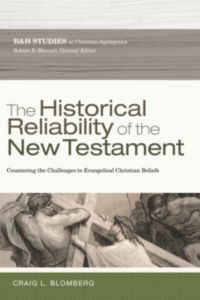 The Historical Reliability of the New Testament
Countering the Challenges to Evangelical Christian Beliefs
Buy Now
Find a Christian Retailer
Powered by