Description
What's new about this third edition of the long respected and often used Church Administration Handbook? In addition to time and technological-sensitive updates to the basic organizational details, editor Bruce Powers writes:
"The needs of people and churches have continued to change, with questions now being raised about the quality of congregational life, nature of leadership, and responsibility for ministry among all believers . . . As we have prepared this edition, we have sought to address five primary needs.
1. Leadership skills and administrative tools that can be adapted for use in a variety of contexts from traditional to contemporary, from rural to urban, and from unicultural to multicultural settings;
2. Spiritual formation that relates to all of life (from birth to death);
3. Mission consciousness (in community, regionally, nationally, and globally);
4. Ministry of all believers (particularly calling out and equipping vocational, bivocational, and lay ministers); and
5. Leadership competence (the ability to inspire, motivate, and equip the saints for the work of ministry)."
Church Administration Handbook was written for the person who is already in a place of leadership or who is anticipating leadership responsibility. The authors write about the dynamic possibilities for human achievement, under God, which might be wrought by persons working together. This book includes guidelines and procedures for administering effectively the work of a local church.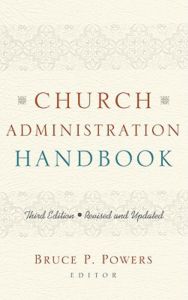 Church Administration Handbook
Third Edition, Revised and Updated
Buy Now
Find a Christian Retailer
Powered by