Description
Talking Is a Gift is the only comprehensive book about communication and public speaking written from a Christian perspective by women and for women — an unmatched source for Christian women enrolled in academic programs, leading in local churches, or serving in itinerant speaking/teaching ministries.
This distinctive text from experienced authors Rhonda Harrington Kelley and Monica Rose Brennan offers essential skills for women in personal life and varied ministry contexts. And as the title suggests, the content of the book supports the premise that talking is simply a talent when used for personal pleasure, but it is a spiritual gift when used to minister to others.
Kelley and Brennan divide the book into three parts: interpersonal communication, verbal communication, and nonverbal communication. Specific chapters cover issues including audience and outline, research and supportive material, anxiety and fear, delivery and details, and more. Discussion questions for each chapter, informational charts, and a glossary of terms are also featured.
Endorsements
"Talking is a Gift is an incredible collection of essential tips for any speaker. The authors are not only gifted in speaking but also in the art of communicating through the written word. I am thrilled to endorse this valuable resource and would recommend this book to anyone who longs to effectively communicate their message to an audience."
—Jaye Martin, President, Jaye Martin Ministries, Houston, TX
"I wholehearted recommend Talking is a Gift. Gleaned insights from timeless truths of public speaking woven with fresh practices of the most engaging voices of our day will arm women to confidently present well. This volume will equip women in any context from the Bible study to the boardroom. A much needed tool for women to lead and teach more powerfully."
—Kathy Ferguson Litton, Consultant for Ministry to Pastors' Wives, North American Mission Board
"Talking Is a Gift affords a rich resource for women whose roles in Christian ministries call upon them to do public speaking for devotionals and Bible studies, as well as drama and oral interpretation. Attention is given to both how to prepare and deliver a speech, including voice care and the proper use of gestures, articulation, microphones, and media. However, Kelley and Brennan also address non-verbal communication and, more broadly, interpersonal communication. Women's ministry leaders, Bible study leaders, and mission group leaders will profit from this helpful guide to help female speakers perform these roles more effectively in the Lord's work."
—Steve Lemke, Provost/Professor of Philosophy and Ethics, New Orleans Baptist Theological Seminary
"Two gifted communicators, Dr. Kelley and Dr. Brennan, have written a guidebook that shares the 'how to' behind transforming one's passion into a clear, life-impacting voice. This book will help a woman confidently develop her voice so that her 'talking' will have an eternal impact. How wonderful to consider that a woman's gift of talking can profoundly enhance the kingdom of God on earth."
—Jackie Kendall, best-selling author of Lady in Waiting
"Most of us take for granted the mechanism and process of communication. We speak our minds and expect others to understand exactly what we mean. Unfortunately, many barriers crowd the path between thoughts being formed into words and meaning being received precisely. With Talking is a Gift, Rhonda Kelley and Monica Rose Brennan have stepped up with a practical guide to understanding communication, in hopes of broadening our ability to say what we mean, mean what we say, and do it in a way that invites others to listen and respond with clarity and purpose. So, whether you talk a lot or a little, to large crowds or just anyone who'll listen, you'll find this timely resource supportive, compelling, and effective in your growth as a communicator."
—Judi A. Jackson, Associate Dean of Students; Coordinator of Women's Programs; Adjunct Professor, New Orleans Baptist Theological Seminary
"When I was young, I was determined to never speak publicly. However, I discovered that most people find themselves speaking publicly at some time in their lives. I had to let go of my fear and obey God by sharing His message, even in public settings. Thankfully, Rhonda Kelley and Monica Brennan have given us a great tool to help us learn how to speak in a way that focuses on the message, the hearer, the purpose, and power of God; not on our own feelings of inadequacy."
—Ann Iorg, president's wife, Golden Gate Baptist Theological Seminary
"Drs. Kelley and Brennan have written a superb guide to public speaking and communication specifically for women. Their incredible insights and practical advice will challenge the minds and bless the hearts of all their readers—women and men alike. Don't miss Talking Is A Gift and indeed so is this book."
—Ed Hindson, Distinguished Professor, School of Religion, Liberty University
"What an extraordinary resource Rhonda and Monica have given us! There is no aspect of effective communication that is not covered here—from the mechanics of preparation to fear of speaking, to non-verbal communication. Women leaders will find this book invaluable in helping them move their speaking skills to the next level!"
—Susie Hawkins, author/speaker/president's wife, GuideStone Financial Resources, Dallas, TX
"Wow! Rhonda Harrington Kelley and Monica Rose Brennan have provided speakers with an amazing resource to take their speaking careers to the next level. These ladies know what they are talking about and address all of the important areas of speaking. Ideal as a public speaking textbook, Talking Is a Gift is perfect for someone who wants to speak but has no training, leaders in churches, the classroom, or the average mom who just wants to give advice to others in an understandable way. This resource should be on the bookshelf of everyone who speaks, wants to speak, or has ever dreamed of becoming a speaker. Can't wait to get my copy!"
—Linda Gilden, speaker, trainer, and director of writing programs, CLASSEMINARS, Inc.
"Talking is a Gift will help the reader discover how to be a better communicator with a Christ-anointed power. Rhonda Kelley is an exceptional speaker who knows the craft of communication. This book will help the layperson and student alike in improving the skill of communication as well as becoming a better public speaker. For those instructors who are looking for a primary text to use in the classroom, this book will be of considerable help to the student."
—John Gibson, Assistant Professor of Communication, Leavell College, New Orleans Baptist Theological Seminary
"Talking is a Gift is a much needed resource for women's ministry leaders currently serving in local churches as well as a great academic text for training the next generation of women's leaders. The benefits of this text stem from the insights of two Christian leaders with varied experiences ranging from speaking at women's events to teaching in college and seminary classrooms."
—Stephanie Edge, associate professor, Union University, Director of Women's Ministry, Poplar Heights Baptist Church, Jackson, TN
"Dr. Rhonda Kelley communicates with gracious precision, leaving the listener with a feeling of acceptance and understanding. She has a gift of making each sentence clear, concise, and full of meaning. In Talking is a Gift, Dr. Kelley and Dr. Brennan share how anyone can acquire these qualities. With the straightforward advice from this book, even the most timid and inexperienced speaker will learn techniques to make their venture into speaking a success. The experienced speaker will have her skills sharpened and broadened. Both authors share from their experiences and their lives to encourage women to let their voice be heard. The 'Talking Points' are a great tool for reviewing and challenging oneself to retain the information on the pages. Talking is a Gift will challenge the reader to think before she opens her mouth, prepare thoroughly, and then speak out with the bold confidence of knowing she is doing her very best."
—Deb Douglas, minister to women, First Baptist Bossier City, LA, LifeWay Ministry Multiplier
"Help! I can't put this book down! Written by two of our nation's top experts in Christian communication, Talking is a Gift is a treasured resource. This intellectual, yet fun-to-read tome provides detailed instruction, spiritual inspiration, and great encouragement for both novice and experienced speakers."
—Diana Davis, syndicated columnist/author/Christian speaker, www.dianadavis.org
"Based upon research, it has been suggested that women have more words than men when it comes to communication. In the book, Talking Is A Gift, Rhonda Kelley and Monica Rose Brennan spotlight the art of using their words to help women develop skills for effective communication. Not only will this book be beneficial on the academic level, it will be a valuable tool for Women's Ministry leaders to communicate God's Word and message in Bible studies and special events. I would highly recommend this one-of-a-kind resource to all women's ministry leaders, speakers, and teachers."
—Mary Cox, Women's Ministry Director, North Metro First Baptist Church, Lawrenceville, GA
"What a joy to have such is an excellent resource available to assist our women's leaders in the area of communication. Everything we do is affected by how well we communicate and this book addresses every aspect of effective communication from the personal to the professional. Thank you, Rhonda and Monica, for following God's direction and knowing just what we need to bring excellence to our God-given ministries."
—Kay Cassibry, Executive Director, Woman's Missionary Union, Mississippi Baptist Convention
"Whether you are speaking to hundreds of women from a platform or leading a small group in your living room, Talking is a Gift will equip you to clearly communicate and connect with your audience. The authors give you proven skills to develop your talk, communicate your vision, and inspire others toward action. This book is a must-read and practical resource for every woman desiring to engage the hearts and minds of others."
—Lisa Bryant, Director of Women's Ministry, Thomas Road Baptist Church, Lynchburg, VA
"Having taught communication skills as a management consultant and public speaking as a professor, I highly endorse Talking Is a Gift: Communication Skills for Women. The book is logical in organization, appropriate in scope, and helpful in content. By dividing the chapters and material presented into three main parts, the authors facilitate a reader's understanding of verbal and nonverbal interpersonal communication and one's insight on how to improve in speech preparation and delivery. The first chapter on gender and communication underscores the distinct importance of having a book written on communication skills just for women. Another beneficial distinction is the discussion of talking as a talent versus also being a spiritual gift. One other appealing feature is the inclusion of questions at the end of each chapter, which makes the book useful for group study as well as for personal reflection. All in all, here is a contemporary communication book which communicates!"
—Jerry Barlow, Professor of Preaching and Pastoral Work, New Orleans Baptist Theological Seminary
"It has been aptly stated that 'We spend the first five years teaching our children to speak and the next fifteen years telling them to be quiet.' However, verbal communication is vital to the success of anyone wishing to have maximum impact in the world. The ability to clearly articulate concepts and images is an indispensable skill. In a world of endless blogs where anyone can become a self-appointed journalist and every published author believes they are ready for the speaking circuit, I greatly appreciate the message of this book: that speaking is a privilege and a gift. Since it is an honor to share a message dear to one's heart, serious consideration must be given to thorough preparation and thoughtful presentation. As one who has struggled to get out of the gate in speech preparation, I am very excited to have this practical and academic reference book. Talking is a Gift is a must read for the women I coach and mentor."
—Becky Badry, founder, Women In Leadership Coaching, Women's Ministry Consultant
"What a treasure Kelley and Brennan's Talking is a Gift is to anyone seeking to improve their speaking and communication abilities. This user-friendly text is packed with practical application, moving the reader into a speaker with useful steps and tools. Many thanks to them for writing this fine book!"
—Karen Allen, president's wife, Midwestern Baptist Theological Seminary
"For years, many women's ministry leaders and speakers have requested help from LifeWay Women in the area of public speaking. Though our particular focus is women's ministry local church leadership, we have offered workshops to help equip these leaders. Now, there is a well-organized and complete resource to equip women at all levels of speaking skills and responsibilities. Having worked with both Dr. Kelley and Dr. Brennan for many years now, I know their hearts and their expertise on this topic. Not only do they model effective speaking skills, they know how to teach others. I highly recommend this book for any woman who has to stand in front of a small group or a huge arena to speak truth to others!"
—Chris Adams, Senior Lead Women's Ministry Specialist, LifeWay Christian Resources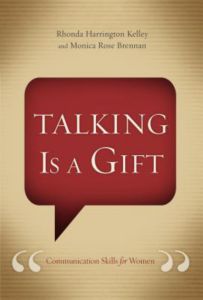 Talking Is a Gift
Communication Skills for Women
Buy Now
Find a Christian Retailer
Powered by