Description
u201cHave confidence in your leaders and submit to their authority, because they keep watch over you as those who must give an account.u201d –Hebrews 13:17a
There is a surprising, even dangerous, gap in the literature on the church in the areas of church membership and church discipline. The former sets the boundaries of a leaderÆs responsibility, and discipline is the last option of a church when members will no longer live in fellowship with their brothers and sisters in the Lord and accept the guidance of their leaders.
And so this book is written first to church leaders, offering guidance on how they should receive and minister to those for whom they will have to give an account according to Scripture. But under the view of the church upheld in these chapters, the receiving of members and discipline of members are both acts of the greater church body, and thus all members of the church share in the accountability for each other. Consequently, Those Who Must Give an Account will be of interest to all believers.
Among this volumeÆs nine notable contributors are Mark E. Dever (u201cThe Practical Issues of Church Membershipu201d), Thomas R. Schreiner (u201cThe Biblical Basis for Church Disciplineu201d), and Bruce Riley Ashford and Danny Akin (u201cThe Church as GodÆs Missional Peopleu201d).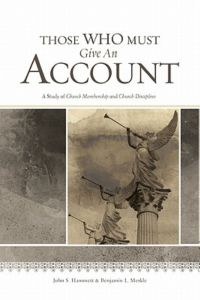 Those Who Must Give an Account
A Study of Church Membership and Church Discipline
Buy Now
Find a Christian Retailer
Powered by